I know I'm the last person in the WORLD to start using
eBates.com
, but I really am kicking myself for it! Almost every place I shop online is on there. I could have been saving a lot of money had I believed the TV ads! Since all those "flower giving" holidays are coming up (easter, mother's day, etc.), I suggest hopping on the
eBates
band wagon. because places like 1-800 flowers, FTD, and Telaflora give about 12-16% cash back.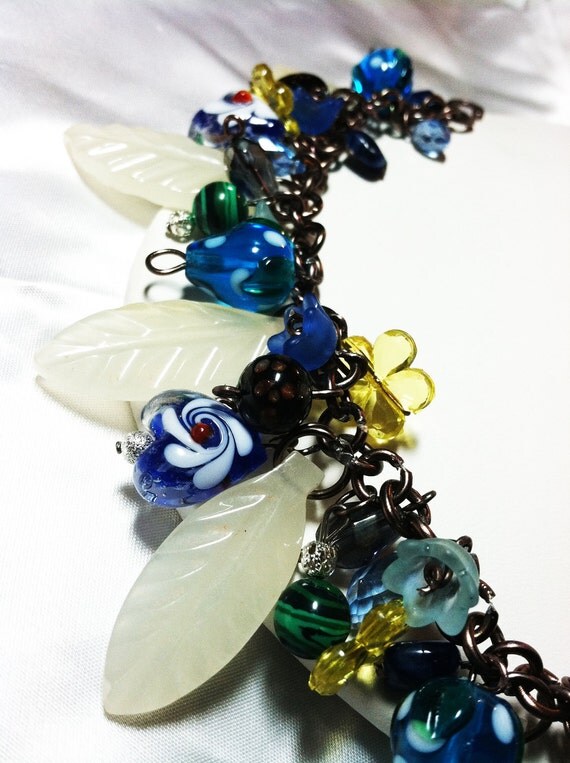 Gemstone and Glass Bead Cluster Bracelet $30
If you haven't yet, I hope you'll stop on by my
J Magnolia Designs
to see all the great
jewelry
I have available! Mother's day is JUSSSTT around the corner, why not get your lovely Mom a gift of
hand-made jewelry
? Want something other than what's already available? Send me a message! I LOVE custom orders! I have everything from gemstone jewelry, to swarovski crystal, to funky wire/chain jewelry! I'm sure there's something you, or someone you know would love! If not, I'll make it!
Speaking of my jewelry shop, I'm happy to announce I FINALLY purchased a new camera! Which means BETTER photos of my jewelry, for your buying/browsing pleasure. I will no longer have to rely on my iPhone for product photos, AND I can start taking photos again in general. I've really missed it. The iPhone is great when you're out with friends, but the quality is not print quality and you can only do so much with iPhone images.
I bet you're wondering, "How did you pay for that? She has been complaining for months she needs to sell more jewelry to buy a camera!". Well, thanks to the marvelous, wonderful, spectacular
SWAGBUCKS
I was able to only pay about $20 out of pocket for it. It took a lot, but I did surveys and searched, and watched loads of swagbucks tv, and my $120 purchase (the camera was marked down from $179.99--it was a Panasonic Lumix 16mpx, and I got it for $101, and I also bought a 16gb sd card with it) ended in me only spending $20. Sure, it's only a point and shoot, but that's all I need right now to improve my business and take some nice photos (as my fiancé always says, it's not the tools it's the artist). I can't wait until I get it in the mail, and can start retaking all my shop photos!
I'm hoping with all the success I've had with
SWAGBUCKS
, so far, I'll be able to take a big chunk out of Christmas shopping this year. I figure, I've only been on Swagbucks since November/December 2011, so with a bit of work I can earn a lot of Amazon gift cards from now until then. Maybe I'll even give some away every so often ;)